by Meera Satpathy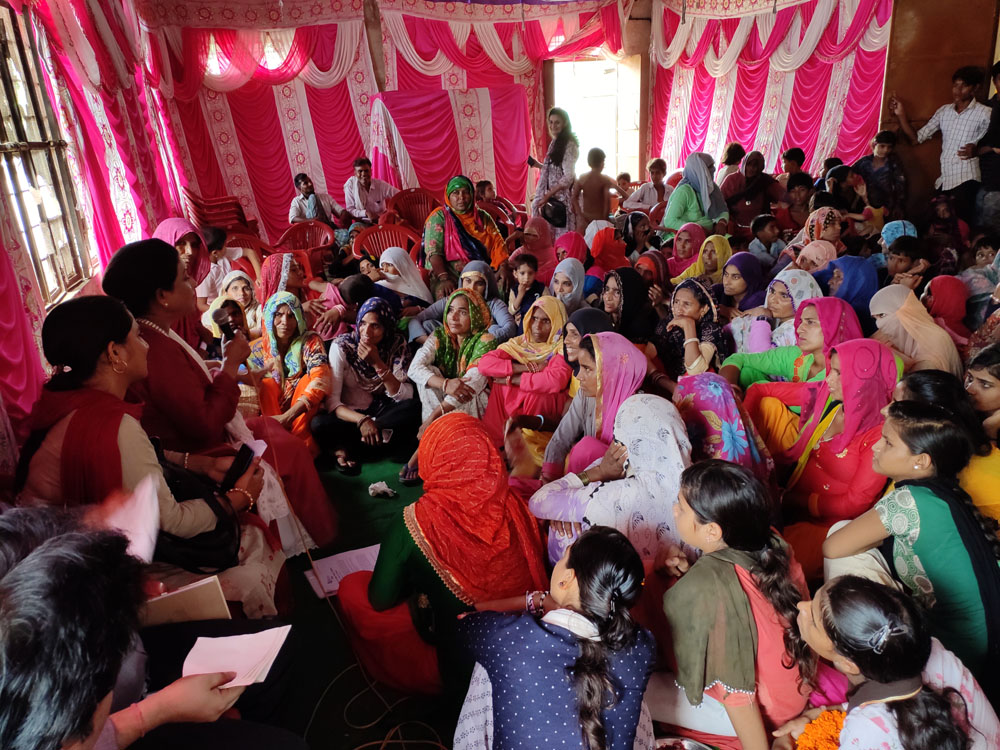 Since my childhood days, I was acutely and consciously aware about women's physical and emotional issues. I routinely observed my mother, members of our extended families, and women around my neighborhood being least attentive to their own physical well being than taking care of their daily chores of life. And often, by the time they got some medical attention, the condition had already become chronic or irreparable. Women's physical, mental wellness was always a neglected issue and faced negligence from all quarters and that remain accepted norm till today. I myself belong to that system where everything else is important.
Inspired by Mother Teresa since young age, I had always wanted to reach out to them, educate them and address their well-being by organizing health camps in the community. In my 40s, when I became a somewhat successful entrepreneur, I decided to pursue my longstanding wish with the help of local doctors, medical professionals, and volunteers.
During those days, I lived with my family at a government allotted flat, and used to see a young girl called Sarita during my daily morning walk. She was in her late teens with three children, and worked at my neighbor's house almost every day as a maid. Each time I passed her; she greeted me warmly and exchanged courtesies. Her husband was an unemployed alcoholic. I admired her courage in working as a maid while taking care of her three children. She sat on the front porch of my neighbor's house ahead of time, waiting for her day's work to begin. I remembered giving her a shawl one winter morning to keep warm, and later inviting her to my health camp because she looked anemic and frail.
Suddenly, I stopped seeing her again. I found out from my neighbor that Sarita had died of severe anemia and malnutrition. Her husband couldn't take her to the hospital in time. She was only eighteen then. The guilt of not attending to her medical needs sooner stuck with me till today. Sarita's story was not new. Death by consistent negligence for one's well being is a depressingly common fact for most women and children living in the slums and rural villages.
Her death proved to remind me of the importance of what I was pursuing. I have since been determined to attend to the health issues of as many underprivileged women as possible in a structured and constructive manner. I also realized that providing one-time medical assistance and medicine during the health camps was not enough. People living in remote villages don't have easy access to primary health care centers when there is a real need, and the poor mothers and their infant children always suffer the most. That is how, Sukarya came into inception in 1998 and officially got incorporated in 2000.
One of the world's great accomplishments over the last generation is the dramatic reduction in child mortality, which has fallen by more than half since 1990. Still, an estimated 6 million children die every year, mostly for preventable reasons. If children are the genesis of every society, women are undoubtedly its strongest pillars. Yet, they often get the least attention.
While organizing health camps in the poorer neighborhoods of Delhi I realized that it was far harder to get women to participate in the free health screening than putting together a team of doctors, volunteers and supporters. The women were reluctant to come out of their homes against the wishes of their husbands even for their own wellbeing. Living in a patriarchal society, they were expected to spend their entire day doing chores like fetching water, washing clothes, and cooking for their family. Because of societal obstacles against women, they couldn't come out to participate in health camps and counseling for fear of retribution. On my part, I also had a number of personal obstacles to overcome.
I was also very apprehensive of gaining any support from my own community to sustain the same enthusiasm and spirit to be on my mission of providing access to basic healthcare to the underprivileged women and children.
The attitude of our society was also a challenge for Sukarya. It was very difficult for us to distinguish philanthropy and charity for them. While charity focuses on eliminating the suffering caused by social problems, philanthropy focuses on eliminating the social problems themselves. Indian society in general believes in religious charities much more than doing any philanthropic contribution to improve the wellbeing of humankind by preventing and solving relevant social issues. Religious donations, it seems, provide a much shorter route to salvation than doing good for others. Bringing in changes to the thought process of people around me with a rigid mindset seemed almost impossible. This was compounded by the general distrust of non-profits because of money being misutilized, making fundraising through donation a challenge.
However, I also found many like-minded and sensitive people who understood me and supported me in my cause. Many of these people are still with me today and I am eternally grateful to them. All this support was heaven sent for me as the concept of working for the poor was not appreciated at that time, especially helping the women and children living in the slums and in remote villages.
I saw Sukarya grow and take professionals and government agencies into its fold. Non-Governmental Organizations (NGOs) like Sukarya always have limited funds, limited time span, and limited project regulated areas, which dents their overall effectiveness. So, we devised a strategy of robust networking with private companies to secure a sustainable resource base for our work while leveraging existing governmental infrastructure.
A project that is particularly close to my heart used this strategy with great success. The Prevention and Control of Iron Deficiency Anemia among Adolescent Girls, Pregnant and Lactating Women in our villages provided me the satisfaction of ameliorating the health issues of thousands of mothers. I was personally involved in all the on-the-ground activities and acted as the de facto project manager. My personal interaction with thousands of women was exhilarating. It seemed we had tapped into a reservoir of genuine need for these women. They were also reciprocating by asking well thought out, intelligent questions about their and their children's' well being. They were amenable to behavioral changes and adopted iron rich foods like iodized salt, jaggery, pickled gooseberries into their diet and iron vessels for cooking as we recommended. They even agreed to take the government provided iron capsules.
A particularly keen and energetic mother of one, named Gita, approached me while I was visiting her village. She took me to her bedroom to speak privately, fastidiously avoiding eye contact with her disapproving mother-in-law and husband. There, she confessed that she had had trouble with her first delivery, and was six months pregnant with a second child. She was apprehensive of the safety of her unborn baby. She also said that her mother-in-law believed that consuming the iron tablets provided would cause her child to be born with black skin, and did not allow her to consume them. I took it upon myself to assuage their concerns. I showed Gita and her mother-in-law the examples of other pregnant women from adjoining villages who had taken iron capsules with positive results and so did they agree.
After three months of follow-up and further interventions, she delivered a beautiful baby girl. On a bright summer day, Gita came to me with her husband and newborn baby during one of my awareness sessions in the area to thank me and give me a box of sweets. The stories like Gita's that provide me with the oxygen I need to continue doing this work.
I could wax emotional for hours about hundreds of stories like these that make me think back to those cold winter mornings when I would give Sarita a shawl. I always felt that I could do more, but her tragic case provided me with the impetus to create an organization like Sukarya. The meaning of Sukarya in Hindi is "good work," but I believe that what we have achieved in the past 18 years is truly great work. Somewhere, I hope Sarita is smiling.