A by-product of the women's economic empowerment program, our spices and cereals have been a huge success. The Spice and Cereal Processing Units were set up in 2003 as a modest step towards assisting women in generating additional income for meeting their household needs and becoming partly self-reliant. Through these units we train women to produce unadulterated spices, pickles and cereals under strict hygienic conditions. We procure the raw material and provide the necessary capital required. A dedicated team keeps a close check on the production process to ensure that the products are being produced and packed under our guidelines to ensure that they are fresh, pure and hygienic.
We have developed linkages with corporates and group housing societies through which the women from the spice and cereal processing units set up stalls for the sale of their products.
Over the years many individuals, housing societies and employees of corporates have been purchasing our products.
In buying our spices and cereals, you also help provide livelihood to an underprivileged woman. Our range includes:
The products are produced under the SHG women's empowerment programme and the funds are used for economic empowerment and sell reliance of women in need.
In case you wish to support by facilitating sale of our products in your place of work/ residential premises or buying our products for your personal consumption contact us at Sukarya E Block, Sushant Lok, Phase I, Gurugram or call us at 9999918517.
We do home delivery also. To order, please call on: 0124-4043538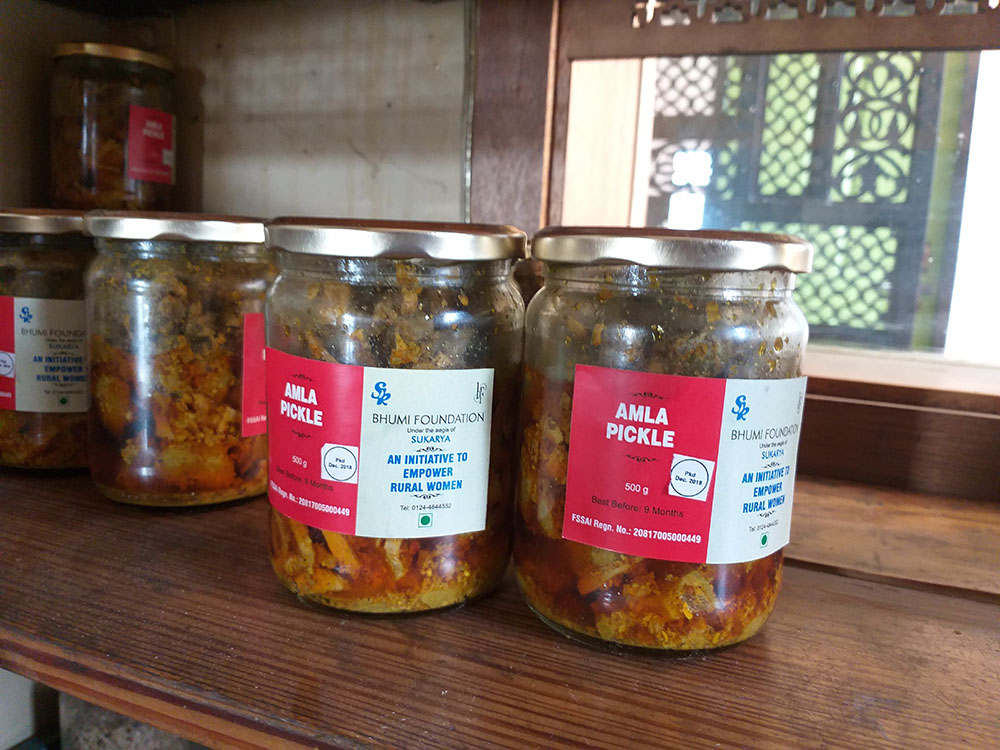 Product List
SPICES
CEREALS & GRAINS
S.No.
Powder Item
Wt.
S.No.
Powder Item
Wt.
1
Aamchur
100
23
Atta
5 kg
2
Anardana Powder
100
24
Bajra Atta
500
3
Black salt
200
25
Besan
500
4
Chana Masala Powder
100
26
Chana Atta
500
5
Dalchini  Powder
100
27
Chilla Powder
200
6
Dhania Powder
100
28
Dalia
500
7
Garam Masala Powder
100
29
Jao Atta
500
8
Haldi Powder
100
30
Makka Atta
500
9
Jeera Powder
100
31
Mix Dal
500
10
Kali Mirch Powder
100
32
Sattu
200
11
Lal Mirch Powder
100
33
Soya Atta
500
12
 Til Chutney
100
34
Swastha Atta
1 kg
35
Swastha Dalia
500
SABUT ITEMS
PICKLES
14
Ajwain
100
36
Amla Pickle
500
15
Dhania Sabut
100
37
Green Chilly Pickle
250
16
Garam Masala Sabut
100
38
Lahsun Pickle
250
17
Jeera Sabut
100
39
Lime Khatta Pickle
500
18
Kala Sarson Sabut
100
40
Lime Sweet Pickle
500
19
Kali Mirch Sabut
100
41
Mango Pickle
500
20
Kasuri Methi Sabut
100
42
Mix Pickle
500
21
Lal Mirch Sabut
100
43
Red Chilly Pickle
500
22
Methi Dana Sabut
100
Testimonials
"I started using turmeric, chilli and dhania powder in 2006. I was so happy with the spices that I am now buying almost all my cereals and spices from Sukarya."
Abha Mongia
"The stuff is really fresh and I know that each time I buy something, I am helping an underprivileged woman."
Shreya Deshpande
Thank you Sukarya for pure masaly and the good quality gehun ka atta, besan, bajre ka atta, sattoo, pickles and so much more. Aroma in our kitchen and food is thanks to Sukarya masalas a little bit of skill taught by my mother and our love for the ones we cook for!
Maneesha Sharma
Thank you Sukarya for the amazing pickles and pure spices and atta. Sukarya products are fresh and  unadulterated and the best part is that we are helping women earn.
Shashi Prabhakar