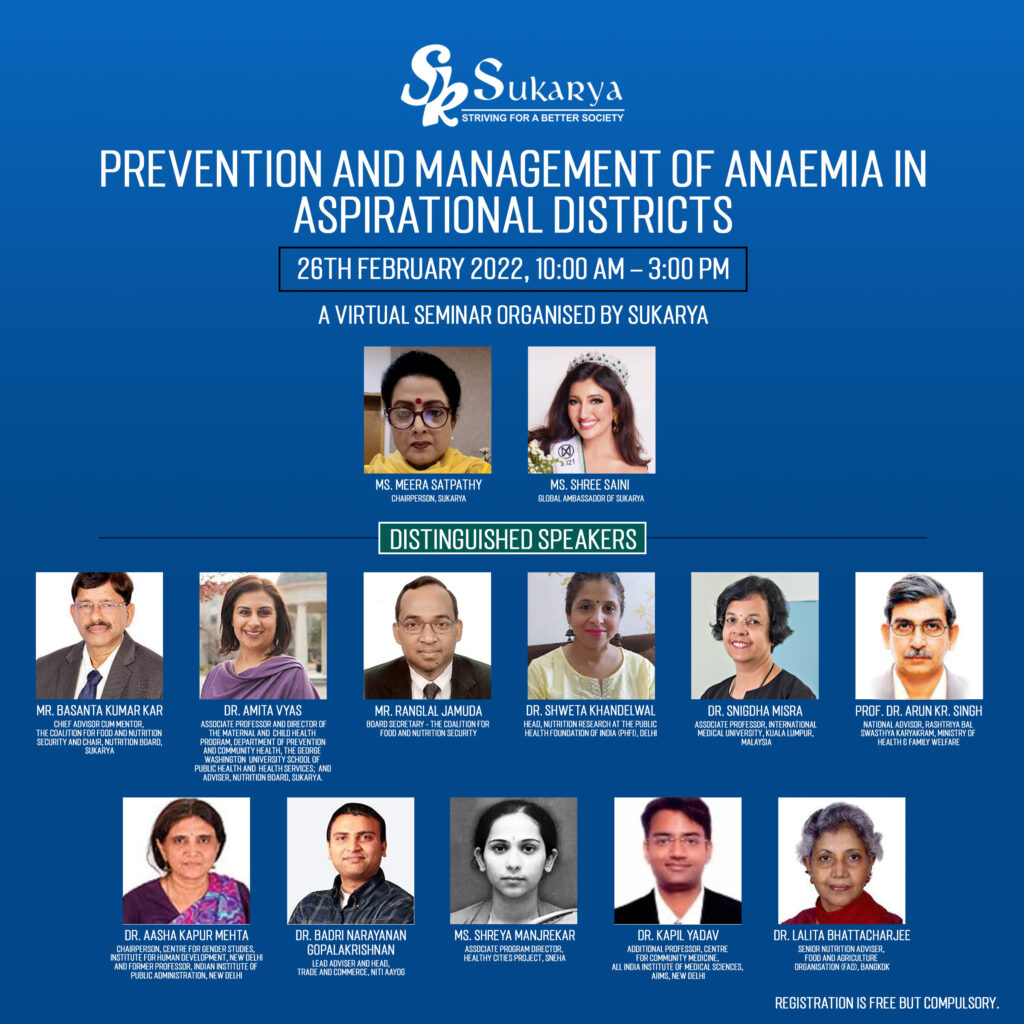 The Context
The evidence from the NFHS-4 survey conducted in 2015-16 and NFHS-5 survey conducted in 2019-21 shows a substantial increase in the prevalence of anaemia among children below the age of five as well as adolescents, women and men between 15 to 49 years of age (see Annexure Table 1). Therefore, Sukarya decided to organise a Seminar to bring together leading experts in this area to discuss the Prevention and Management of Anaemia in Aspirational Districts. The Seminar was organised virtually on 26th February 2022.
Ms Meera Satpathy, Founder & Chairperson, Sukarya, set the context for the Seminar through her opening remarks. She also introduced Ms Shree Saini, Sukarya's Global Ambassador. The Distinguished Speakers spoke on the following issues:
Transforming Anaemia Landscape
Prevention and Treatment of Anaemia is key to Women's Economic Empowerment
Enforcement of the provisions under the National Food Security Act, 2013
Impact of Maternal Anaemia on the nutritional status among under- fives.
Tackling Anaemia in India: Aspiration vs reality
Prevention and management of Anaemia in Urban Informal settlements in Mumbai
Data-driven strategies for Public Health
Anaemia Mukt Bharat – the journey so far
Combating Anaemia: Food based Approaches
Anaemia and cognition in child
This was followed by a Round Table and a closing session.
The distinguished speakers at the Seminar were:
Ms. Meera Satpathy, Founder & Chairperson, Sukarya
Ms. Shree Saini, Miss World America 2021 and Global Ambassador of Sukarya
Mr. Basant Kumar Kar, Chief Advisor cum Mentor, The Coalition for Food and Nutrition Security and Chair, Nutrition Board, Sukarya
Dr. Amita Vyas, Associate Professor and Director of the Maternal and Child Health Program, Department of Prevention and Community Health, The George Washington University School of Public Health and Health Services; and Adviser, Nutrition Board, Sukarya.
Dr. Surender Kumar Yadav, Chief Medical Officer, Nuh
Dr. Basant Dubey, District Immunization Officer, Nuh
Mr. Ranglal Jamuda, Board Secretary – The Coalition for Food and Nutrition Security
Dr. Snigdha Misra, Associate Professor, International Medical University, Kuala Lumpur, Malaysia
Dr. Shweta Khandelwal, Head, Nutrition Research, Public Health Foundation of India (PHFI), Delhi
Ms. Shreya Manjrekar, Associate Program Director, Healthy Cities Project, SNEHA
Dr. Badri Narayanan Gopalakrishnan, Lead Adviser and Head, Trade and Commerce, NITI Aayog
Dr. Kapil Yadav, Additional Professor, Centre for Community Medicine, All India Institute of Medical Sciences (AIIMS), New Delhi
Dr. Lalita Bhattacharjee, Senior Nutrition Adviser, Food and Agriculture Organisation (FAO), Bangkok
Prof. Dr. Arun Kr. Singh, National Advisor, Rashtriya Bal Swasthya Karyakram, Ministry of Health & Family Welfare, Government of India
Professor Aasha Kapur Mehta, Chairperson, Centre for Gender Studies, Institute for Human Development, New Delhi and Former Professor, Indian Institute of Public Administration, New Delhi
The Welcome address was given by Mr. Shahnawaz Shahid, Program Director, Sukarya and the Vote of thanks by Ms. Shipra Shukla Co-ordinator Networking and PR.