by Meera Satpathy
The yellow mobile school bus that drove in every week into the cramped lanes of Rangpuri Pahadi slums locality was such a welcome sight for students who eagerly awaited to get on board and attend classes, share assignments, spend time on the computer and indulge in a host of creative activities. It made them forget their other life where drudgery, exploitation, petty crime and a purpose-less existence were bedfellows.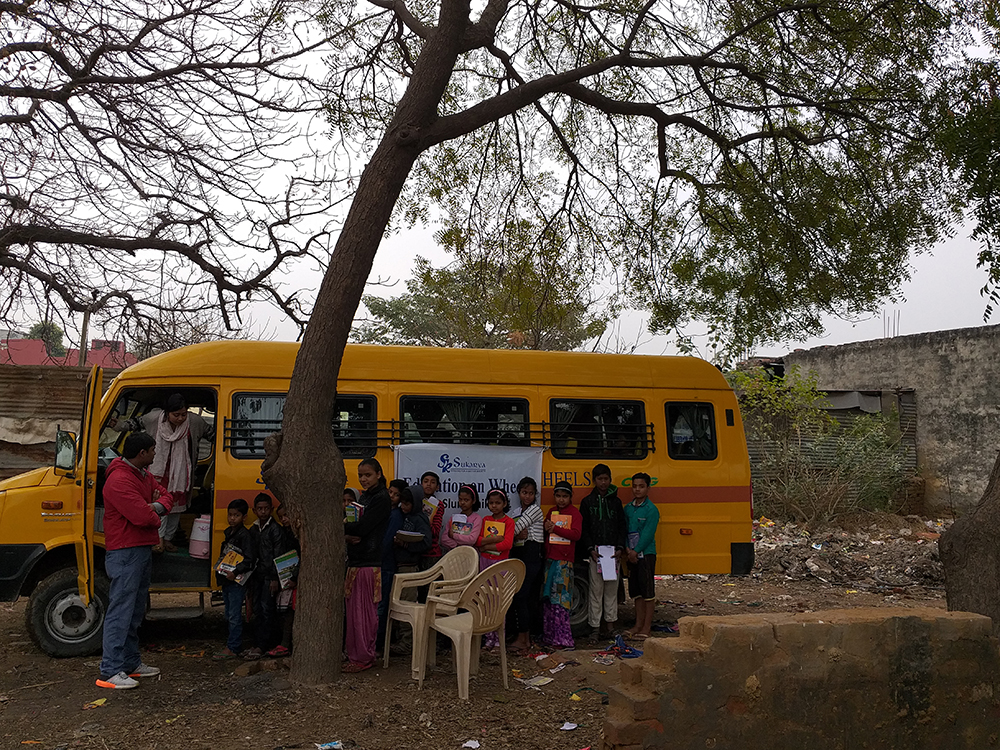 Mobile schools put the fun back into learning
Sukarya's Education on Wheels (EOW) bus brings not just a mobile school right to the doorstep of students but with it hope and reassurance. Children who have been forced to quit school and work in the unorganised sector as domestic help, in dhabas, as rag pickers and other exploitative situations in an effort to contribute to the family income now see light at the end of the tunnel. Education for them need no longer be elusive. Yes, they may still not get to go to a brick and mortal school and take exams like other school going children but through the informal schooling format they would acquire relevant educational skill sets and achieve their learning milestones, even take exams through open schools and qualify for both mainstream schooling and jobs.
The thrill of studying in a bus that comes to their doorstep and dabbling with the latest techniques and tools of learning with friendly educators and counsellors has a tremendous impact on the morale of children. Quick learners, they adapt to the learning environment and with handholding support show miraculous results. Their curriculum was planned and administered in a way that took into account the challenges slum children faced. Their erratic timings, difficult domestic situations, shortage of space and resources, patchy levels of learning and an overall inability to stick to a structured routine were all practical realities that had to be acknowledged and worked around. The team of teachers, academic supervisors and assistants made sure they related to each child at an individual level, keeping in mind his/her unique circumstances and personal strengths and limitations. Detailed case sheets were maintained so that special care could be taken to customise the learning plans.
Adapting to ground realities, including COVID-19
The long drawn out months when the COVID-19 pandemic was raging through the country and the government was announcing different versions of lockdowns, slum colonies where EOW had a presence, sorely missed the mobile bus and its friendly team. Even through the pandemic the teaching staff kept in touch with students making optimal use of mobile phones so that gains made by the EOW were not lost.
While the pandemic did disrupt schedules of EOW it did not impact students of the EOW much. They were already oriented to the non-formal system of education and had been introduced to online learning through mobile phones. With a dedicated team finding ways to stay in touch with them, they could complete their curriculum and even sit for exams. Despite the pandemic leading to closure of regular schools these students did not go through the trauma and loss of routine which other students did.
Need to strengthen this form of remedial education
What began as a form of remedial education that gave children a chance to complete schooling who had otherwise abandoned it or never had the chance to enroll in the first place began to see traction. The EOW acquired an aspiration value. When students began to get mainstreamed into schools and started to pass their exams through the National Open School it also translated in their acquiring a more progressive world view. The palpable change in their personalities made them role models within their communities. The rise in enrolments in the very second year of the EOW was ample proof of this trend.
Educating girls has been a very important piece in the EOW strategy with extra effort made to ensure at least 50% of their enrolment. In doing so, it has played a major role in reducing societal inequities and imbalance that tends to tilt more towards men. Apart from learning the 3 R's, adolescent girls are finding a voice. They are speaking up and demanding equal rights.
Providing accessible, affordable and efficient education to marginalised communities, the EOW has been walking the extra mile to reach the unreached. How the EOW concept can be taken to scale in more communities, especially where formal education is difficult to conform and adhere to must be studied in a more in-depth and nuanced manner. NGOs like Sukarya who have pioneered this in communities where they are working must be supported. Small studies can be commissioned at the quantitative and qualitative level so that evidence is generated and can guide more such initiatives. According to psychologists, projects like EOW apart from serving the purpose of educating also help raise a more egalitarian society where chances of children from disadvantaged settings, turning to a life of petty crime or abuse and exploitation is greatly reduced.